5D EVENTS – "Pioneers in Consciousness, Science & Space Research"
WELCOMES YOU TO THEIR 16TH CONSCIOUSNESS EVENT:
INTERNATIONAL SYMPOSIUM OF QUANTUM CONSCIOUSNESS & HEALING
When: OCTOBER 20-21-22, 2017, FROM 9:00 AM TO 11:00 PM DAILY
Where: ALEXIS PARK ALL SUITE RESORT, LAS VEGAS, NEVADA, USA.
ADDRESS: 375 EAST HARMON AVE, LAS VEGAS, NV 89169
Hotel Website: ALEXISPARK.COM
EVENT IS ABOUT: QUANTUM CONSCIOUSNESS & HEALING
TOPICS: Quantum Consciousness, Quantum Healing, Quantum Physics, Space, Free Energy, Secrets of Pyramids, Human Origins, Exopolitics plus many more topics.
AMAZING EPIC EVENT WITH OVER 33 KEYNOTE SPEAKERS WITH 100 LECTURES, WORKSHOPS, PANELS, EXHIBITS & DINNER BANQUETS.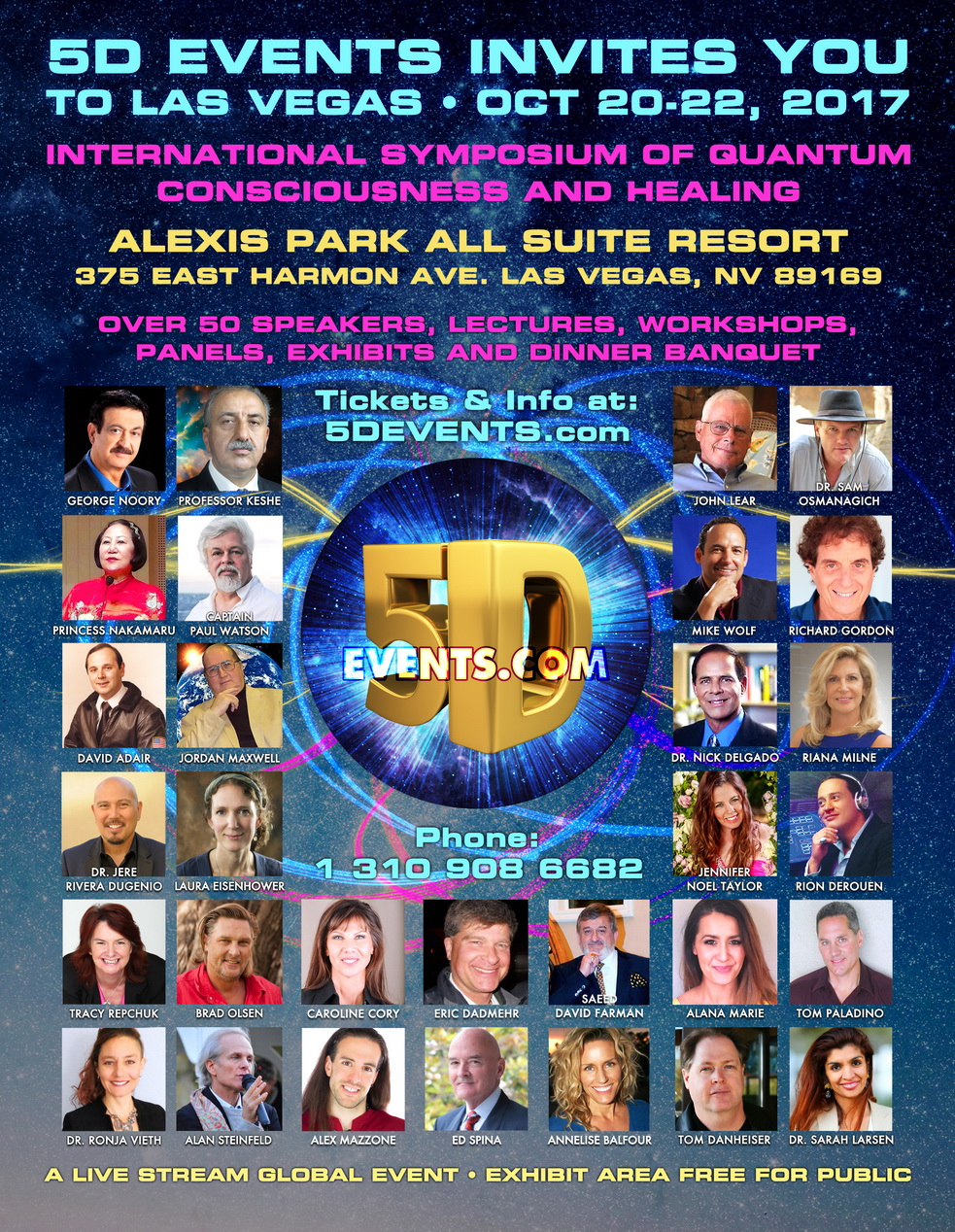 Website: http://5devents.com
Streamed Live on: 5DSTREAM.COM
Purchase 3-Day Live Streamer Pass ~ $39
Purchase Friday Live Streamer Pass ~ $15
Purchase Saturday Live Streamer Pass ~ $15
Purchase Sunday Live Streamer Pass ~ $15
Global Gathering of all LIGHTWORKERS, INDIGO STAR SEEDS, HEALERS, SCIENCE RESEARCHERS & TRUTH SEEKERS, the 144,000 who will lead the Humanity into new age of Aquarius & the new Earth the Sentient Beings for celebration of New humanity.
Intention: "Raising Global Consciousness, Healing, Peace & Transformation"
***21+ to Attend, NO KIDS, PETS, DRUGS, OUTSIDE FOOD, RECORDING, and BACKPACKS ARE ALLOWED.
***Attire: Dressy Casual
***WORKSHOPS ARE FREE WITH GENERAL ADMISSION TICKET
***Over 100 exhibits (only $10 for public to visit exhibit hall)
***Free hotel parking.
***Estimated attendees during 3 days 2000 people, great networking opportunities for different groups and businesses.
This event starts Friday OCT 20TH, 2017 at 10 AM with an opening ceremony and ends on Sunday OCT 22ND, 2017 at 10 PM & Saturday Night Banquet dinner party.
Lunch breaks are from 1:00 noon to 2:00 PM, Dinner breaks from 6:00 to 7:00 PM, there are 2 lecture halls speakers speaking at the same time in each hall with 10 minutes break between each program plus exhibit hall vendors selling products from 10 AM to 8 PM.
KEYNOTE SPEAKERS:
George Noory, David Adair, Professor Mehran Keshe, Princess Kaoru Nakamaru, Dr. Sam Osmanagich, Captain Paul Watson, Richard Gordon, Mike Wolf, Dr. Nick Delgado, Dr. Jere Rivera Dugenio, Jordan Maxwell, Dr. Sarah Larsen, Ken Rohla, John Lear, Riana Milne, Richard Gordon, Laura Eisenhower, Saeed David Farman, Jennifer Noel Taylor, Tracy Repchuk, Art Giser. Alan Steinfeld, Tom Danheiser, Edwin Harkness Spina, Harijiwan, Dr. Ronja Vieth, Caroline Cory, Brad Olsen, Alexandar Mazzone, Rion DeRouen, Isabella A. Greene, Eric Dadmehr, Sel Sarkin, Tom Paladino, Aurora Buchanan, Jennifer Montero, Alana Marie, Abby Namazi, Eileen Meyer, Alan Bedian & Annelise Balfour plus many more to be added soon.
Event Host: George Noory
Co-host: Alan Steinfeld, Annelise Balfour, Eric Dadmehr & Steven D. Kelley
Director of the event: David Farman (Phone: 1-310-908-6682, Email: info@5devents.com)
Some of the Topics:
Quantum Consciousness, Quantum Healing, Plasma Technology usage in Space, Plasma Cancer Treatment, Scalar Energy, Energy Healing, Free Energy, Peace, GMO, United Nation Agenda 21, Nano Technology, Teleportation, The Montauk Chair, Alternate Reality, The Mandela Effect, Warping Space Time, HAARP Weather Control, 5TH Dimension, Alternate Time Lines, Mind Control, Pleiadians, Arcturians, Tall White ET, Space – Time Continuum, Worm Holes, Time Travel, Alternate Realities, Artificial Intelligence, Subconscious Mind, Alien Intervention, Geoengineering, Ecology, Eugenics, Cybernetic, Bioelectonics, Extraterrestrial Types, ET Disclosure, Cosmic Cultures, Secret Space, Paranormal, Metaphysics, DNA Activation, Ascension, Secrets of Pyramids, Human origins, Crop circles, Path of Enlightenment, Conscious Leadership, Business Networking, Self-Development, Empowerment, Personal Growth, Soul Cleansing, Karma cleaning, Self-Confidence, Vitality, Joy, Life Satisfaction, Evolution, Thriving, Awakening, Mastery, Meditation, Building a better future with Star Seeds, Indigo and the New Humanity.
***This event has a Conference room with 300 seats and workshop with 100 seats plus exhibit hall with over 100 vendors.
***There are 2 events running at a given time in this event one in Conference room and another one in workshop room. (Only conference room events will be streamed live for $69)
***Ticket Info:
Early Bird general admission Event tickets are only $195 before May 1ST, every 1st of each month ticket prices will increase and they include all of the lectures, panels, exhibits & workshops (Door Ticket prices are going to be $599 cash for 3 days general admission.
Early bird VIP Full event Ticket which also includes Saturday night Banquet Dinners are $259 and will increase each month. Full event with banquets door cash ticket will be $799
Exhibits are $10 per day to enter from 10 AM to 8 PM for public 18+.
TICKETS: http://5devents.com
http://newhumanitymovement.com/tickets.html
Eventbright tickets:
https://www.eventbrite.com/e/international-syposium-of-quantum-consciousness-healing-tickets-33379148933
***Stream Live Pay per View:
Stream Live each day for only $15 or all 3 days for only $39 (only lectures, no workshops) http://5dstream.com
***Vendor Exhibit 6 x 3 Tables are $350 and 10 x 10 booths is $1500
http://newhumanitymovement.com/exhibit.html
***Sponsor this event:
http://newhumanitymovement.com/sponsor.html
***Our Movement:
http://newhumanitymovement.com/movement.html
***Support our cause:
http://newhumanitymovement.com/id135.html
***Nearest Airport: Las Vegas McCarran International Airport, only 15 minutes away, free Alexis Park shuttle from the airport.
***Hotel sleeping rooms special 5D Event group rate is $69 Friday & Saturday night $109
Hotel Online Reservation URL: http://bookings.ihotelier.com/bookings.jsp?groupID=1837947&hotelID=85179
Or go to: http://newhumanitymovement.com/id14.html
To reserve your sleeping rooms by phone please call 800-582-2228 from out USA call +1-702-796-3322
Mention CODE: QHH1017 for QUANTUM HEALING GROUP DISCOUNT
The following Online group link for our attendees to begin booking their room reservations:
***Photo Gallery:
http://www.photosnack.com/5679EA97C6F/internationalsymposiumofquantumconsciousnesshealing.html
***Event Facebook page:
Event page: https://www.facebook.com/events/1355168697887160
5D Event Group: https://www.facebook.com/groups/5DEVENT
All questions please contact Director of the event:
David Farman (Phone: 1-310-908-6682, Email: info@5devents.com)